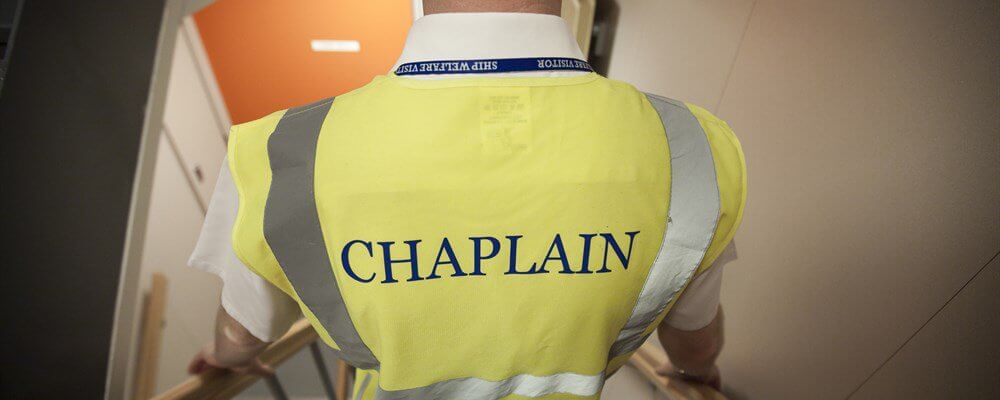 Port Chaplain Spiritual Support for Seafarers
Around the world, The Mission to Seafarers seeks to serve seafarers irrespective of their rank, nationality or religious belief. As a mission agency of the Anglican Communion, our ethos is to provide the right help and support whatever the circumstance, be it practical or spiritual.
Seafarers come from many different nationalities and represent a wide range of religious and spiritual beliefs. Many of our Port Chaplains are ordained Anglican priests and they will help any seafarer, regardless of whether they have a faith or not. In all of our 121 seafarers' centres, Christian chapels and quiet spaces are available for seafarers who want to pray and reflect. Bibles, Rosaries and other items of spiritual support are also available.
For seafarers of other faith traditions who wish to access their place of worship, our chaplains can arrange transportation to the appropriate temple, synagogue or mosque. In most ports, our chaplains have good relationships with local faith leaders from all major religions, including Catholic, Muslim, Jewish, Sikh or Hindu traditions.
Very often, seafarers will request on board religious services, particularly if there has been a tragedy or disaster on the voyage, such as a bereavement. These are arranged on a case by case basis in the port, with the permission of the port agent/shipowner.
In some ports, our Chaplains are asked to bless ships, particularly if there has been a death on board or if the ship is a new build. A service of remembrance or celebration will be arranged and will provide an opportunity for all to remember the perils a life at sea can bring.
Our Church on the High Seas programme provides priests on board cruise ships. On certain routes, and at the request of the company, one of our clergy will join a ship to provide passengers and crew with weekly Sunday services and special celebrations at Christmas and Easter, when access to a church would otherwise be impossible.
---
Providing Spiritual Support For all Faiths
If you are not a religious person but wish to talk in confidence about any faith issue, then our port chaplains would be very happy to meet with you. Many non-religious seafarers find a discussion about the meaning of life and death fruitful and comforting with a chaplain, particularly if you have recently had bereavement or are suffering from distress of any kind.
---
What is a Port Chaplain?
In the majority of the ports we work in, our teams are led by an ordained port chaplain. It is their job to provide seafarers support and help to address any issues that they may face so that they can continue to prosper and carry out their vital work. They are responsible for recruiting and training volunteers and planning the welfare response in their port.
Port chaplains are not a new concept – priests have been providing services to seafarers for nearly 200 years. Over the decades their role has evolved to include social services and support for seafarers whilst stationed at their port. When a ship arrives in port, the chaplain will visit the crew to welcome them to the port and to offer any assistance that might be needed.
Chaplaincy teams can provide seafarers with a range of services, such as access to communication, shopping, accessing medical care, transportation or information about the local area.. Communication is often the most important request as many seafarers do not have access to WiFi on board, and as soon as they get into port they want to call home to check in with their loved ones. Our Port Chaplains have been particularly helpful to seafarers through the COVID-19 pandemic as many seafarers have been unable to access shore leave owing to government lockdowns and restrictions. Our teams have gone shopping for seafarers, provided mobile WiFi networks and picked up medication and other items for them.
If you are a seafarer in need of support from a port chaplain, then you can get in touch with our representatives upon arriving in port. You can find the contact details for all of our chaplains across the world here.
You are now also able to communicate with a chaplain online via our new chat feature which can be found on the bottom right of your screen.
Whatever your spiritual or practical needs, our port chaplains aim to provide seafarers with support through whatever difficulties they may face.