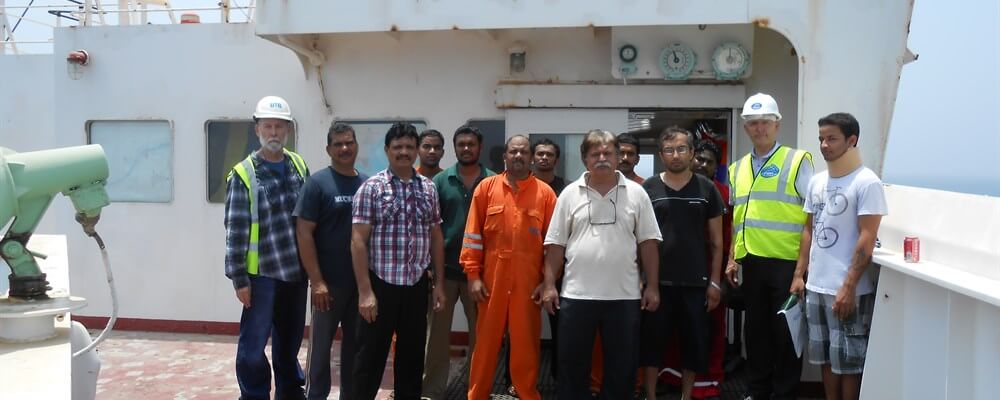 2am and the phone rings. It's the crew of a small tugboat moored about 50m off shore. Their vessel is sinking and the panicked crew don't know where to turn. I hastily contact the coastguard, but they don't pick up, so I get in touch with the local police who mobilise a rescue team to bring the crew of three to safety. All before sunrise!
While it's unusual to get calls in the middle of the night, seafarers know they can contact us whenever they need – whatever time of night or day. They also know that through our strong connections and good reputation, we are in a position to help.
I've been in Dubai since September 2012 and The Mission to Seafarers has been here since 1962. We are well integrated into society and Sheik Hamdan, the Deputy Prime Minister of Dubai, is our local patron.
After a few hours of sleep, I head straight for the local police station with food and clothing for the crew who were rescued last night. These men are not criminals and have committed no offence, yet they find themselves abandoned by the owner of their boat with nowhere else to go.
Each week three or four crews are abandoned by their ship owners in Dubai. Since unions are not allowed in The Gulf, we often find ourselves acting as a "union by proxy", to gain justice for these mistreated seafarers.
Building Relationships
By 9am I'm at one of the ports. Jebel Ali is the largest port in The Gulf, and the third largest outside China, but there are multiple smaller ports as well as Dubai Creek, where wooden dhows take things like second-hand motorbikes and mattresses to Iran. During my time in the ports, I work hard not only to gain the trust of the crews, but also to build strong relationships with the ship owners.
Perhaps the hardest part of my job is speaking to desperate crew members who are anxiously waiting to be paid so they can send money home to feed their families. A lot of recruitment is done through India where a number of criminal manning agents persuade unqualified seafarers to hand over up to £4,000 to get a job on a boat. Many end up here in Dubai already in great debt and without the wages they were promised.
It's a sad fact that seafarers bear the human cost of globalisation. We rely on them to transport the mobile phones, televisions, cars, clothes and food we all take for granted and yet they are themselves so often forgotten.
Diplomacy, Persistence and Imagination
Once I'm back at the office, the investigations can begin. That might involve visiting ship owners, making phone calls, engaging the consulates and even consulting lawyers. We are fortunate to have the support of an international law firm with a specialist team devoted to maritime issues. They provide us with pro bono support and also help us keep up to date with all the latest legislation.
Before I return home, I may make a visit to one of our corporate partners.
Businesses here rely heavily on the sea for trade, so we are a natural charity partner. Each year we hand out about 12,000 bags to the seafarers, containing essentials like toiletries. Many companies give their staff time off to help us compile the bags and hand them out. This can be a great way to start a corporate partnership.
What we do certainly takes diplomacy, persistence and imagination and the days are never long enough. We can sort out some situations in a day or so, but many take months and the longest one took two and a half years to resolve.
The best part is getting that phone call from a seafarer to tell you they are safely home. A few months ago I was on board a ship with a largely Syrian crew. Many of these men had not heard from their loved ones for months. They greatly appreciated speaking to someone who shared a faith view of the world and could pray for them. I was delighted when one of the crew called me a few weeks ago to say, "Father Paul, I heard from my family and they are safe."
As evening draws in, I'm already thinking about tomorrow. I have to be at the airport at 4am to catch a flight to Mumbai where I'm meeting with the Chief of Customs at JNPT, the largest port in India.
No two days are ever the same with the Mission in South Asia and the Gulf.
Written by: Dr Paul Burt